Karin Kratzeisen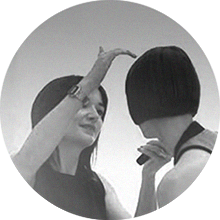 Karin was trained as a hairdresser in a salon in southern germany. The main reason to do this was the early wish of becoming a make-up artist. During her 3 year long apprenticeship it relatively fast became obvious that hair is Karins true passion, mostly because she was watching her boss mastering the art of cutting hair in such a special way. After gaining experience through working for salons in various german cities and visiting the renowned hairdressing school "Meininghaus" her next big step was an employment at "Vidal Sassoon" in London.
During the first three years she worked her way up from being a Varderer to becoming an Assistant Creative Director and then stayed one more year to work in this position for the prestigious Sassoon City Salon. There she was looking after new and steady customers on a daily basis and educated assistants, varderers and her colleagues. Her devotion is organising photoshoots and shows, putting a team together, creating looks to achieve beautiful results and working with an inspiration.
2014 Karin relocated to her favourite german city, Berlin.
She is now based at the distinguished Salon "Molar Berlin" in the Boheme district in the west part of the city. Karin also collaborates with Indola, an exclusively professional haircare brand based in Hamburg. She creates the haircuts for their annually Street Style Collection. If you are interested in collaborating with Karin, please feel free to contact her:
info [at] karinkratzeisen [dot] com
Credits

2011 STROBE

Hair: Karin Kratzeisen
Haircolour: Sassoon City Team
Photography & Retouching: Linda Cooper
Styling: Francesca Marotta
2012 SUPREMATISM

Hair: Karin Kratzeisen
Haircolour: Sassoon City Team
Photography: Natalie J. Watts
Retouching: Ipank Andar
Make- up: Kamila Siemiatowska
Clothes Design: Abby Li
2013 Shoot for Assistant Creative Director Presentation- TRESHIQUE

Hair: Karin Kratzeisen
Haircolour: Sassoon City Team
Photography: Natalie J.Watts
Retouching: Margaret Kopec
Make-up: Kamila Siemiatowska
Clothes Design&Styling: Francesca Marotta
2013 ANDROGYNY

Hair: Karin Kratzeisen
Haircolour: Sassoon City Team
Photography: Natalie J. Watts
Retouching: Ana Paula Ovofrito
Make-up: Kamila Siemiatowska
Clothes Design: EINE
Styling: Iza Rem